Enjoy daily free stories about vintage cars in your email and sign up for free.
Many years ago, your editors speared through the British landscape. Near York. In a bend - straight in the picture - there was a nice opening, a garage door ajar. From a great distance it was visible that it was an early Alfa Romeo Giulietta Sprint designed in the studio of grandmaster Bertone. With a Lebanese license plate on it, neglected, thick under the dust. The domain was closed with a large gate, no one to be found, access impossible and therefore something to remember. Photo made, marking and note applied on the map and then on again.
A restoration object of such Milanese beauty - mainly because of the left-hand steering wheel in Great Britain - revolved around £ 500 in those days. In guilders, it was barely 2 mille. So something to remember. Born on a Sunday, happiness once again smiled at me a few weeks ago. Riding on such a beautiful and winding country road in the neighborhood of Newbury (Berksire), the Alfa Romeo is now out. With a gentleman who deals with trade-in-classics. A nice gentleman who is willing to give text and explanation.
Dany Chamoun
He has done his homework well. The archives of the Alfa Romeo Museum in Arese, Italy, have shown that it is an Alfa Romeo Giulietta Sprint from the 750B series, which rolled off 16 on July 1956 and was delivered to Beirut on 7 August of that year. Lebanon. Colour: grigio chiarissimo. Call it 'light gray', the Alfa Romeo color code is AR 706. The car was intended for Dany Chamoun. If you have been going along for a while and you already had 'worldly' interest and still a good memory, then you will remember that the president of that then peaceful country was called Camille Chamoun. Dany must have been his son?
That is almost necessary, because he went to study in Loughborough, Great Britain shortly after and took the car… No, the car was not shipped, but was driven over there by road. Silent witnesses include an almost dissolved sticker of the Grossglockner Pass in Austria, a paper clip with gas, hotel and restaurant receipts that make clear how the route was then run. It can be deduced from the hotel and restaurant vouchers that Chamoun Junior did not make that trip alone, but with a companion. The duo took it well along the way, and the word "almost" also did not fit into their vocabulary. In terms of studies, Junior took it seriously.
In 1960 he achieved his'degree"and shortly afterwards married the Australian fashion model Patti Morgan. The couple settled in Lebanon and bought a new Alfa Romeo Giulietta Sprint there. An Australian fashion model that had entered into a relationship with the son of the Lebanese president was "news" and especially for the Australian "Women's Weekly" that paid wide attention to it in 1958.
58901 LEBAN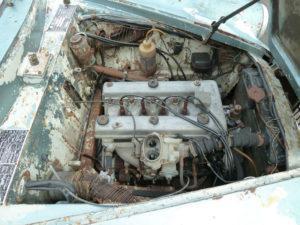 On a plate, Patti Morgan is carelessly leaning against an Alfa Romeo Giulietta Sprint in an unstable light green / blue color. Fortunately, the (front) license plate is visible with the number 58901 LIBAN. That number is now on it. It also appears that a (elderly) volunteer has spent months in the archives of the said university and indeed Dany Chamoun studied there and yes, had a reserved (!) Parking space for his Alfa Romeo. During the stay in Great Britain, Dany Chamoun must have had a collision. Could not have been much damage, since there are no visible marks on the inside of 'the nose'. That may have been the moment the car was painted in the current color. Then the original grille was also replaced by one of a later type, at least from the Sprint after 1959. It may be that an original copy was not available or that the sheet metal worker / sprayer wanted to 'modernize' the Alfa Romeo Giulietta. On the radiator is a soldered plate showing that it was delivered, more likely repaired, by the company Northern Radiators or Leeds. According to the son of the owner of the radiator repairer, the repair must have been carried out in 1959 or 1960. He could tell from the picture.
Remained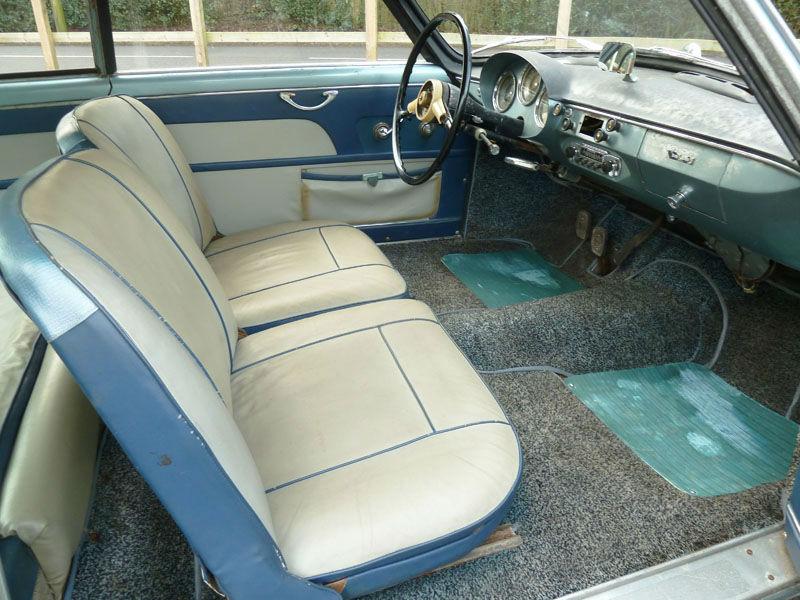 That Alfa Romeo was left behind in Great Britain when Dany Chamoun returned to Lebanon. What happened to it afterwards is not entirely clear. Has not been put on British license plates. In August 2013 our conversation partner was called by a relation of the now deceased owner, in whose garage we had seen the car eighty years ago. That name was John Robert Granville - for intimates Bob - Long, a former member of the RAF, the Royal Air Force. Two (!) Alfa Romeo Giulietta Sprints were found in the garage, one 750B and the later of the 101 series. It was delivered new in May 1960 in Great Britain. Unfortunately it is not clear how and why these cars have been there all these years. It is suspected that Bob Long bought the later Sprint in the late 1960s and drove it until the early 1970s. That could be deduced from the sticker still on the window that motor vehicle tax was paid valid until December 1972. It may be that he bought the 'Lebanese' Sprint for the parts ... ?? The fact is that the original engine and gearbox are still mounted in the trolley, that actually - except for the damage and refinishing - has never been tampered with. Although the upholstery - completely uncomfortable - does not appear to be original, Alfa Romeo may have previously opted to make it that way for the African (?) Market. As we know these cars, the upholstery should be half skai and 'sheet'. The upholstery - from the backrest - was carefully removed on the spot and it turned out that the last four digits of the chassis number had been applied to the inside - with yellow 'crayon' ... Despite a sloppy half-century storage, it is a restoration object , at least a car with a good story. Proven too.
Back on earth
Well then and then the selling party mentioned the price and we came back on earth: 35.000 pounds sterling and no penny less. With a British license plate of January 2014. Something has changed in this world in twenty years ...
Are you a classic enthusiast and do you like the free articles? Please consider a subscription to Auto Motor Klassiek, the printed magazine. That will land on your doormat every month for a mere annual contribution. Packed with interesting reading material, especially for the classic enthusiast. Enough to keep you off the streets for days. And if that's not enough, you also contribute to the entire platform for and by classic enthusiasts. In addition, such a subscription has even more advantages. Take a look at the link above for more information. By the way, you can find a preview of the current issue via . Then you already have something to read, because it contains pages of various articles.