Sidecar combinations are the best combination of the disadvantages of cars and motorcycles. You cannot pass between traffic jams and you still get wet. But where just about everyone gets into a car carefree, there is a widely held caution with regard to tricycles.
You can also crash spectacularly on such a tricycle. But climbing stairs is statistically more dangerous.
Easier for motorists
Sidecar driving is also easier picked up by motorists than by motorcyclists. Because a sidecar driver steers from the shoulders and not from the ankles and hips.
A sidecar was once the ideal option for small entrepreneurs and motorcyclists in the days when birth control was still in its - yes - infancy. Because there is only a limited number of passengers that you can take on a motorcycle. To approach the fine possession of such a priceless automobile, sidecar 'boxes' were made that most resembled caravans with only one wheel. For that you needed a 'tractor' that was more than 250 cc, but with a bit of good will it could fit three children, as recently by Hyman ltd. sold copy.
Still kid-friendly
Nowadays (classic) sidecar combinations are also regularly used to transport children, although they are not the kids of the drivers, but often children with any kind of disabilities. A happy sidecar driver once summed it up like this: "Well, we all have our deviations and limitations". Sidecar driving has thus become a 'community' of uninhibited people.
But even without a good cause in mind, sidecar driving is great fun. And very carefully, more sidecar riders m / f join the pleasantly uncomplicated sidecar world in which many of the riders are also technically above average interested and skilled. This often results in original constructions and changes. For example, you can heat the sidecar by running an exhaust bend through it. There are also quite a few constructions such as the beautiful Ural-Moto Guzzi combination.
Good for your social contacts
If you use your sidecar to run errands, you will have to adjust your schedule accordingly. People on the toughest Harleys, Harley clones and supersport bikes are often treated with suspicion. But as a sidecar driver you will be approached by people of all ages and all current genders. That often takes some time.
Back to this gray, wet weather
Suddenly your motorcycle season is 12 months long on a sidecar. And such a machine that is asymmetrical in terms of bicycle geometry and drivetrain is a party when it comes to driving on roads with autumn leaves or snow-covered roads. Because the wet and cold months only require a few extra washes, while the benefit is that your chance of falling over is minimized.
You can already do nice classic sidecar driving with a 250 cc MZ, and then you usually talk about amounts under two thousand euros. Well below two thousand euros. 'Russian' driving happens every three grand, for a young timer or classic with a Tripteq as the third wheel, you are about five-six grand further. And in our opinion it does not have to be much more expensive.
When we talk about the really classic toppers on three wheels, we of course did not ride it for change. But those machines are usually not used all four seasons.
Read also:
- Sidecar riding for entertainment
- Ural sidecar crosser, that's where the Russians come
- A sidecar as a dating service
A free-range cockpit can be mounted almost universally
Usability often trumps originality. But classic is classic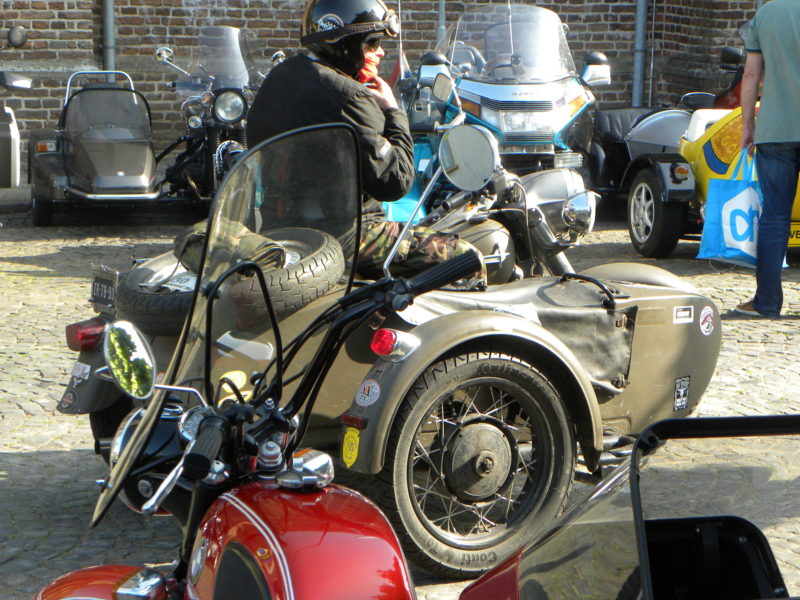 Learning can be willing or unwilling
The risk is in the rider
Neo classic, affordable and highly deployable: An early four-valve with Tripteq gearbox
In many places ordinary cheap transport
Coming soon Auto Motor Klassiek: a classic Guzzi block in a classic Ural
---
Please help us keep this website and the articles on offer free. Subscribe yourself Auto Motor Klassiek and also receive the magazine 12 times a year in the mail. Or donate a desired amount on our payment page via this link. We are certainly grateful for it.
---
Enjoy daily free stories about vintage cars in your email and sign up for free.