Auto Motor Klassiek in July 2020
What you can read in the new AMK is shown below. Every month plenty of pages filled with everything about classic cars and motorcycles, sometimes even a single truck.
New in the store in the Netherlands and Belgium every month. And a few days earlier with the subscribers. Subscribe is a lot cheaper, you pay 40% less than in the store.
---
Restoration report Fiat 500 'Abarth'
When he returned home, Henrique Linde was immediately clear that the 500 Fiat 1974 he had bought was 'terribly rotten'. Nevertheless, he decided to start the restoration of the little Italian. And because there was 'nothing left to waste' - including his words - about this Fiat, he made it his own Abarth interpretation.
---
Honda CB 500 Four - description
There are 'experts' who have hard definitions about what a True Classic is and what is not. The Honda CB 750 OHC is in their eyes a real classic. We are more flexible in our learning. The Honda CB 550 is a later Honda four-cylinder that took the profits from the previous experiences plus the improvements at the time. He is also a further development of the Honda CB 500 Four, which at least still has some status with the hardcore classic enthusiast, provided he has at least an original color scheme and exhaust set.
---
Chevrolet Fleetmaster custom
No doubt that you will receive comments when you dare to raise your head above ground level in our country, which is why customizing has never become such a phenomenon here. If you do it and even push it to the extreme, such as Marco Dingemans with his 1947 Chevrolet Fleetmaster, you can be sure that the attention will lead to uncontrolled scenes.
---
Mercedes-Benz 600 Pullman
Mercedes-Benz wanted to face the tough confrontation with Rolls-Royce. Germanic technical top quality, against what the Germans saw as 'mainly a myth'. Thus, as the pinnacle of automotive construction, status and prestige, the Mercedes-Benz 600 Pullman was born.
---
Restoration report Peugeot 405 mi 16
Hendri Kampherbeek gave his heart to Peugeot. Even when it has to be overhauled for the second time. He bought his 405 mi16 with a broken engine and after the restoration it was almost wrong again.
---
Restoration report BMW 318i Convertible
Even the most dedicated partner sometimes fancies wild fantasies. If the temptation becomes too great, this can have far-reaching consequences. Femko de Jong knows all about it, as he, as an inveterate Golf driver, was taken over by a BMW 318i Convertible in the color of love. The adventure got out of hand and even resulted in restoration work.
---
Aprilia Moto 6.5 according to Philippe Starckdesign
In the past, hardly anyone wanted such a thing and now it is a design classic in the cult corner. Due to its unique looks, one has even ended up in the New York's Guggenheim Museum of Modern Art. But the chance that you will find one in the wild? Even when they were still being produced, you rarely saw them.
---
Stirling Moss
On Easter Sunday of April 1, the world had to say goodbye to British racing legend Sir Stirling Moss. He experienced his last moments on this earth in his house in the London district of Mayfair, with his wife Lady Susie at his side. He was 2020 years old. Reason enough for us to publish a historical overview of the legendary driver.
---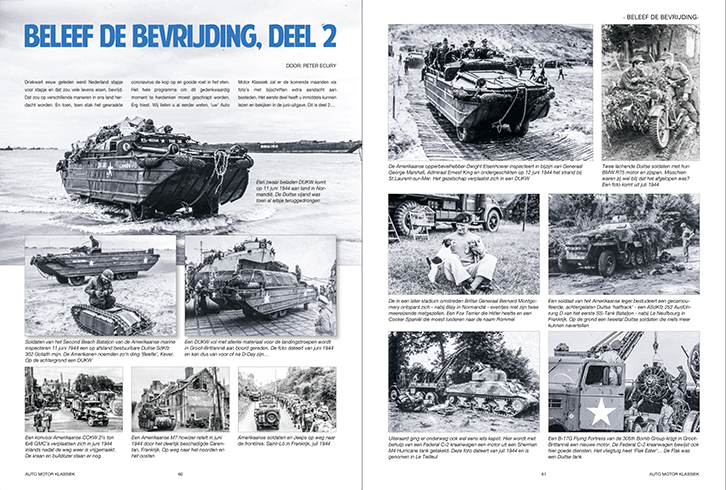 ROZ Classic 2020
Three quarters of a century ago, the Netherlands was liberated step by step, which would take many lives. That would be commemorated in different ways in our country. And then, then the offending coronavirus popped up and threw a spanner in the works. The entire program to commemorate this momentous moment had to be dropped. Very sad. We let you know before, 'your' Auto Motor Klassiek will pay extra attention to it in the coming months through photos with captions. You can now read and view the first part in the June edition. This is part 2…
---
Short messages
Auto Motor Klassiek has plenty to report every month, current news, useful tips, events, you name it. Including monthly columns the column by Maria Pels, Erik van Putten, Jouke Bloem and Mark van Beeck.
Reader post
Every month, our readers' section is full of reactions from readers, discoveries they made on (distant) journeys, or corrections to previously asked questions.
Vintage cars for sale
Vintage cars for sale, Young timers for sale, Classic engines for sale. You will find every month in Auto Motor Klassiek thousands again classics for sale.
Preface
Once a tree was cut down on a beautiful sunny day. A very large tree. An old tree too. And why was the tree cut down? To make a trendy wooden bench? Clothespins? A birdhouse perhaps? Or a garage for an old-timer? None of that. The tree was cut down for curiosity. There was already a strong suspicion that the tree was very old, but the irregular shape made it difficult to determine how old exactly.
So on August 6, 1964, crackled chainsaws in the remote Nevada hills broke through the silence so appreciated by hikers there. When the chainsaws finally died down, the tree creaked to the ground to remain dead still after a dull blow. And never get up again. An organism that stood before the pyramids was built even before the stones of Stonehenge were carved, even before I was born. A tree that survived storms, fires, earthquakes and whatever disaster you can think of, felled by a Husqvarna in full swing, combined with the curiosity of a scientist. This year, the tree is said to have reached 5056 years old. Ironic, actually. Looking down the probably oldest tree in the world, just to see how old it is ... Was probably a woman, because why else so mysterious about age? Even people who don't stare admiringly at trees every autumn and prefer to see wood painted to a high-gloss finish in a Jaguar dashboard will be very sorry. It can hardly be worse. However, in the view of some classic enthusiasts, the 'customizing' of a classic is even a bit worse than cutting down Prometheus, as the tree in question was known. A mortal sin. They could still accept the case of the Fiat 500 Abarth interpretation in this issue, because the car was so bad 'that there was nothing left to waste'. But rebuilding a 1947 Chevrolet Fleetmaster in such a way that even his own mother wouldn't recognize it? That is definitely out of the question and for some is on the same level as the sad demise of Prometheus.
I do not belong to that category. After all, it is not 'banger racing'. I think it is beautiful. You just have to experience classics the way you like it. And - in the case of the Abarth for example - it has nevertheless become a nice creation that manages to approach the atmosphere of the Abarthjes, without costing a rib.
The Fleetmaster is entirely a personal interpretation and - fair is fair - the result is exuberantly exuberant and executed in a perfectionistic way. And not only the appearance is magnificent, the interior is even more beautiful if possible! The owner even customized his footwear in the color of the Chevrolet. Wooden shoes. Hopefully not from Prometheus wood…