New in the store in the Netherlands and Belgium every month. And a few days earlier with the subscribers. Subscribe now is also a lot cheaper, you pay almost € 15 less than in the store.
What you can read in the new AMK is shown below. Every month plenty of pages filled with everything about classic cars and motorcycles, sometimes even a single truck. Auto Motor Klassiek is now in the shops, in the Netherlands and Belgium.
<– click on the cover for a preview of the November issue
Chevrolet Camaro With Movie And Alleged Racing Past – Not So Sweet
At first glance, this looks like an ordinary Chevrolet Camaro, although the connoisseur will immediately say that the targa roof does not match the year of manufacture. There's a story behind that, but even more interesting is that a million moviegoers saw the car fly across the silver screen in 1983. Besides, there is also something with racing history.
Honda 750 K1 – 50 years … with the first owner
Most relationships don't make it past 50. And fifty years ago, buying a Honda CB750 K1 was a serious investment. Even if you traded in a Kawasaki 500 cc three-cylinder for it. Just a sidestep: owner Martin had driven about 50.000 virtually trouble-free kilometers with that Kawasaki. He still regrets getting rid of the crotch rocket. But he was looking for a motorcycle where he could comfortably make long journeys.
Restoration report: Volvo C202 Laplander from 1981 – Getting sand
A dream of many; as father and son work with heart and soul on a restoration project. Especially if you have a beautiful workshop with all amenities at your disposal. The fact that both gentlemen have a technical background and complement each other well in terms of skills and character completes the picture. Given the situation in the world, Guido decided at the beginning of 2020 that a camper had to be built. The choice fell on a Volvo with the beautiful nickname Laplander.
Light restoration to rid Ford Granada of old hurts – "Nice car, but that roof…"
In front of the church people there was quite a neat Granada, only Ton Sankrediets started to get a bit of tobacco from the sloppy C-pillars and the commentary on them. Then immediately take care of the entire body, whereby as always more old sore came to the surface than the Brabant Ford enthusiast could estimate. Oh well, it kept him off the street during the lockdown and now no one really dares to crack a critical note anymore.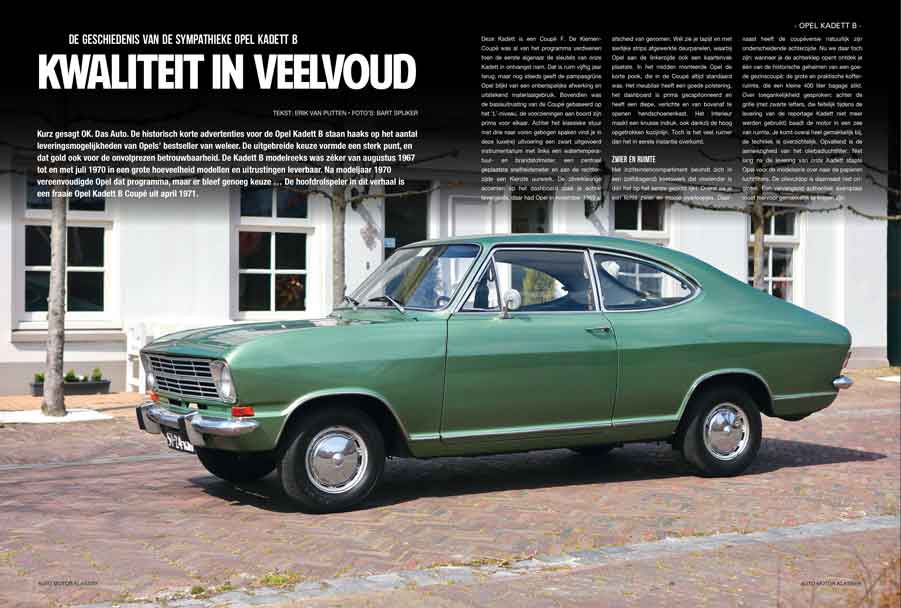 The history of the likeable Opel Kadett B – Quality in diversity
Kurz gesagt OK. That car. The historically short advertisements for the Opel Kadett B are at odds with the number of delivery options of Opel's bestseller of yesteryear. The extensive choice was a strong point, and so was the unsurpassed reliability. The Kadett B model series was certainly available from August 1967 to July 1970 in a large number of models and equipment. After model year 1970, Opel simplified that program, but there was still plenty of choice… The protagonist in this story is a beautiful Opel Kadett B Coupé from April 1971.
Taunus 17 M P2 – Ford from father to sons
The Taunus 17 M P2 from the 50s is a very rare car. So it's really special when someone has two. This is the case with the Postema family. Brothers Bob and Cor Postema already got the love for Ford at a young age, from their now 85-year-old father Menzo Postema.
Yamaha XS1100 – All New Cannon
Yamaha hadn't been very successful in trying to market a four-stroke after all the two-stroke success of the 650s. There was nothing wrong with the engine of the 1 cc XS1970 from XNUMX. The powerful engine with modern overhead camshaft was almost indestructible. However, the bicycle part turned out to be the weak link in the whole. While Yamaha was overtaken on all sides by three, four and six cylinders, it tried to hold its own with the slogan: "Two cylinders, really, it's enough".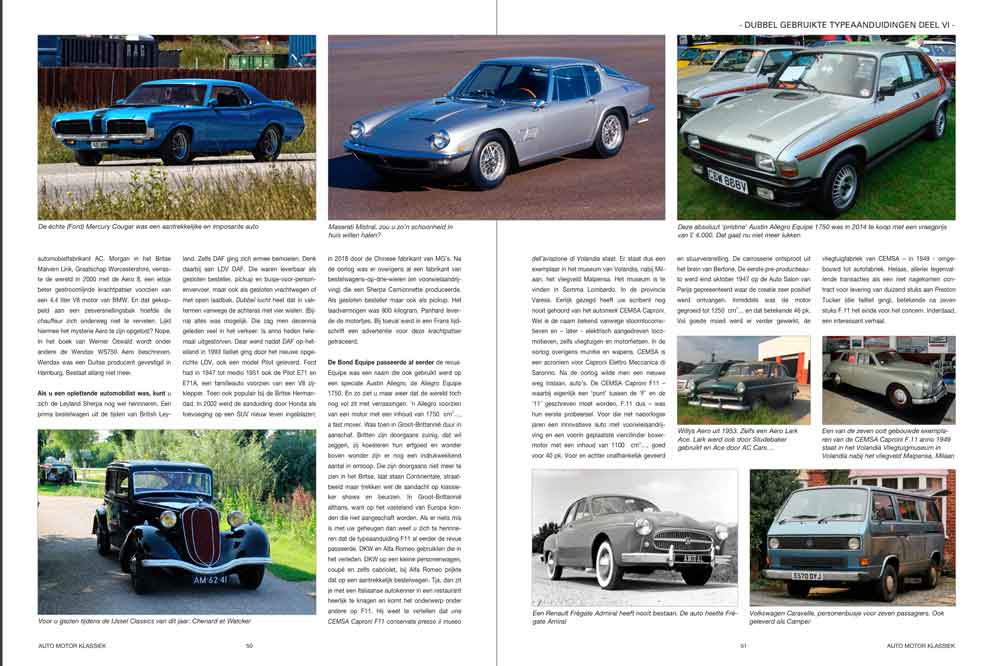 Double-used type designations, part 6
The series of articles on type designations used twice by the various car manufacturers has meanwhile attained the status of magnum opus, opus magnum if desired. It is almost improbable how many particular 'names' have been used more than once by different manufacturers. This month we have now arrived at Part VI.
Short messages
Auto Motor Klassiek has plenty to report every month, current news, useful tips, events, you name it. Includes monthly columns the column of Maria Pels, Erik van Putten and Jouke Bloem.
Reader post
Every month, our readers' section is full of reactions from readers, discoveries they made on (distant) journeys, or corrections to previously asked questions.
Vintage cars for sale
Vintage cars for sale, Young timers for sale, Classic engines for sale. You will find every month in Auto Motor Klassiek thousands again classics for sale.
Preface
British humor is of course world famous. I've mentioned it before, but one of the funniest jokes - precisely because it came from the BBC - may have been the April 1st joke of 1957, when the BBC reported very seriously about the failed spaghetti crop in southern Africa. Switzerland. With beautiful black and white images of a Swiss family harvesting spaghetti. Of course, the British didn't have Gordon Ramsey or even Nigella Lawson at the time, so most people didn't know anything other than Shepherd's and Fish-and-chips. The prank worked so well that many people later contacted the BBC asking for tips on how to grow spaghetti trees.
But can you also grow cars? Wouldn't that be nice? Henry Ford thought so. Now Henry Ford had more ideas, some inspiringly good: "You say I started with nothing, but that's not true. We all start with everything the world has to offer, but it's what we do with it that makes the difference." Other bar bad; "Exercise is nonsense: if you are healthy you don't need it, and if you are sick it is better not to start." But with the idea of ​​a bio-car running on biofuel, he was ahead of his time for several decades. Ford thought that both steel and oil were not unlimited, unlike sunlight. The sources are somewhat dubious, but it turns out that even in 1941 Ford built a car that consisted largely of vegetable components. The 'hemp car' (hemp car). The body was made of so-called hemp plastic that was said to be very strong and consisted of 70% hemp. Even the fuel was made from the hemp plant. In this way he came a little closer to his ideal of the cultivated car. A revolutionary idea that for many reasons (conspiracy theory, anyone?) didn't get off the ground at the time.
"You can't learn in school what the world will do next year" is one of Henry Ford's quotes that has been preserved for posterity. How true!
Looking at Ford's Barocktaunuses barely 15 years later in this issue, we can say that there is abundant and voluptuously shaped steel as far as the eye can see. And the 1698 cc four-cylinder probably doesn't even like biofuel. Even the Ford Granada from the somewhat austere seventies, with its rather baroque shape for the time, gave the impression that both steel and oil were inexhaustible. Until the oil crisis – barely a year after the introduction of the Granada – of course pushed everyone hard with the facts. Although it was an interesting idea, we will probably never get real plant-based bio-cars. You never know, but I don't really care. I am more concerned with the upcoming meager spaghetti harvest…