New in the store in the Netherlands and Belgium every month. And a few days earlier with the subscribers. Subscribe now is also a lot cheaper, you pay almost € 15 less than in the store.
What you can read in the new AMK is shown below. Every month plenty of pages filled with everything about classic cars and motorcycles, sometimes even a single truck. Auto Motor Klassiek is now in the shops, in the Netherlands and Belgium.
<– click on the cover for a preview of the December issue
Wonderful Adventures With Two Baja Beetles – Globetrotters And Boyhood Dreams
A dream became reality. Cross inhospitable areas in Europe together, forge friendships around the campfire and thrive under minimalism. Egbert and Roy Spinder did it in the summer of 2021, with two VW Baja Bugs. The impressive stories are legion. And not only that: we also received a beautiful encore from Roy. He bought his Baja Bug in Australia and traveled Down Under for a year. Before you lies a story of adventurer's blood, beetle love and wonderful encounters.
Helmut Dähne (Replica) – a tribute
On June 8, 1976, Hans-Otto Butenuth and Helmut Dähne went to the Isle of Man to compete in the Production TT race with a BMW 1000cc just before it went into production. That was to test the power and prove the reliability of the machine. With the modified BMW R 90 S, they both raced against the rest of the international players and won the Production TT.
MG MGA (1955-1962) – Eternally Desirable
You can of course expect a handsome open sports car from the specialist in typical British roadsters, but the MGA is really a breathtaking beauty. Add to that the brand image, the unadulterated classic driving pleasure and the simple, reasonably solid technology, and it is not surprising that it survives all trends and seems to remain eternally desirable. The entrance is not easy financially, but after that the great fun begins.
Handy Harry's Lagondas – The Wedge
Harry Kielstra puts, as he puts it himself, 'his soul, bliss, creativity and technical know-how in the Aston Martin Lagonda, The Wedge'. He has a rare take on cars, with a fleet that is just as unique.
2000 hours of restoration work on Fiat X1/9, but then karting sensation – X-factor
A kind of speedboat on wheels with the driving behavior of a kart, that is the Fiat X1/9. Henk Janssen had to overcome quite a bit to experience that sensation for himself. For three years, he sacrificed some 2000 free hours to restore the sports car, more than half of which was spent on grinding, welding and sheet metal work. In the meantime, he has seen all those efforts amply rewarded.
The 350 Yamaha RD1981LC – From rider to racer to ornament
Actually, at the end of the seventies, because of the stricter emission requirements, it was already the end of the story for the sporty two-strokes. The speed limits, which were already current at the time, were no good either. Even so, Yamaha remembered then that the company's roots were firmly grounded in its successes with production racers.
25th edition Oldtimer & Classic fair Leek: Happy faces
For many, the first trade fair after a two-year vacuum, which created extra enthusiasm among the organization and exhibitors to make something good out of it. This was rewarded with visitors from all over the country, a boost for this northern fair. Mayor Ard van der Tuuk of the municipality of Westerkwartier, himself also an enthusiast, organized the opening on Friday afternoon. On Sunday, in sunny weather, there was a ride with lunch for all 70 participants.
Double-used type designations, part 7
It just keeps going. Every moment of the day something new flashes through the memory in terms of type designation. Duplicate type designations, that's what it's about. They have been used by various car manufacturers over the years. Sometimes even simultaneously. An improbable amount. It's not all. This month we have now arrived at Part VII.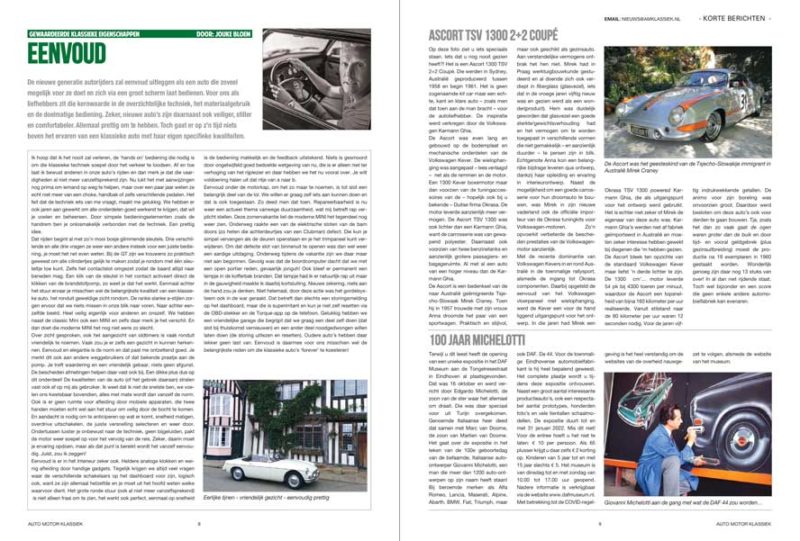 Short messages
Auto Motor Klassiek has plenty to report every month, current news, useful tips, events, you name it. Includes monthly columns the column of Maria Pels, Erik van Putten and Jouke Bloem.
Reader post
Every month, our readers' section is full of reactions from readers, discoveries they made on (distant) journeys, or corrections to previously asked questions.
Vintage cars for sale
Vintage cars for sale, Young timers for sale, Classic engines for sale. You will find every month in Auto Motor Klassiek thousands again classics for sale.
Preface
A huge bang heralded the end. Pieces of battery flew around and I felt the splashes of battery acid on my face. With my eyes closed, I stumbled over to the tap to rinse my face thoroughly. As luck would have it, the permanent damage was quite limited. The battery, it was irretrievably lost. And the clothes I was wearing developed gaping holes after the first wash. At that time, jeans with holes were just garbage instead of fashion. Fortunately, I also learned three things from it. The fact that something has never happened does not mean that it can never happen, the hydrogen gas from a charged battery in combination with a spark from removing the cables can produce spectacular effects. And – last but not least – that there is a logical reason why you blink when someone hits you with a hammer. No matter how you try, you can't stop it. It is a natural reflex to protect your eyes. And it still worked! I could still see, though sometimes I can't find things right in front of me, but that aside.
You would think that after such a traumatic event you are forever completely cured of tinkering yourself, but the opposite is true. Unfortunately, for all sorts of reasons, I don't have enough time for it these days.
Still, my hands get itchy when I see the photos of such a beautiful restoration as the Fiat X1/9. I've always thought they were beautiful cars, but when I look at the photos like this, the sharp lines and that beautiful bright green combined with the matte black elements, then it is a very desirable machine. The level of the restoration is breathtakingly high when you look at the detail work of, for example, the engine, or the high-quality bodywork restoration. Not 'over the top', but just really great! If you think it's a nice car, why should it be economically viable?
Unfortunately, a restoration at that level simply takes a lot of time. How long? Henk Janssen spent almost 2000 hours on it … and the car shows that! It is of course known that restorations can take a lot of time, but 2000 hours speaks volumes about the level. Nothing worthwhile is easy, right?
Which reminds me of the English sheet metal worker who had made a beautiful three-dimensional work of art with curves in all directions. It was only a small part, but still impressive. And that from a flat piece of sheet steel. An admiring spectator's question about the number of hours in that piece of sheet metal was answered somewhat dryly with: "45 years." So in just two words he said that of course it is not only the work, but also the experience! Unfortunately, my many years of experience in the craft industry does not extend as far as making such delights, but I can now disconnect a battery!