What you can read in the new AMK is shown below. Every month plenty of pages filled with everything about classic cars and motorcycles, sometimes even a single truck. Auto Motor Klassiek is now in the shops, in the Netherlands and Belgium.
New in the store in the Netherlands and Belgium every month. And a few days earlier with the subscribers. Subscribe now is a lot cheaper, you pay 40% less than in the store.
Mitsubishi Galant 1600 GL – Well-mannered, fashionable mid-range Mitsubishi
'Slap design', 'imitate everything'; the Japanese got quite a bit thrown at them in the 43s. However, you could hardly say anything bad about the stylish Mitsubishi Galant Sigma and it was not long before the three diamonds began to shine brightly on the European market. Roest turned out to be the great enemy, but we found a survivor who has been defying the Dutch climate for XNUMX years.
Suzuki RE-5 Suzuki falters
In 1970, engineers in twenty countries worldwide were developing the rotary engine based on the principle of engineer Felix Wankel. Suzuki Motor Company also received a license contract to design a rotary engine. The ever so conservative and 'trend-following' Japanese company wanted to enter the superbike era with a bike that would have 'future'.
Restoration Modification Report: Jaguar Mark II 1964. Heart & Soul
You just have to dare. Restore, adapt and modernize a classic Jaguar design. But although this legendary classic Jaguar was given a new face and improved technology, the 'heart and soul' remained fully present.
Thirty years of Mercedes-Benz Baureihe 140 – imposing and loaded jubilee
This year, an illustrious Mercedes-Benz model celebrates its thirtieth birthday. The Baureihe 140 is one of the most impressive models from the rich history of the brand from Stuttgart. However, its development did not go smoothly. Moreover, the moment of launch of this immensely proportioned car was decidedly unfortunate. But everything worked out. The star rose quickly and even today the Cathedral is awe-inspiring. Auto Motor Klassiek drove an impressive Mercedes-Benz 400 SE from an early year and found out why this car enjoys a respectable status.
Fiat 124 Familiale (1973) & Lada 1200 Combi (1975) – Scoring with a cover
'Proud Mary' by Ike & Tina Turner. Whitney Houston's I Will Always Love You. Two typical examples of how an immensely popular cover completely overshadowed the – perhaps better – original. That's roughly how it works with the Fiat 124 and the Lada 1200. We have them both show up to get a clear view of the mutual proportions and especially the differences.
VW 181 – Rubber through the mud
Jorien Levert and Koos van der Boon love driving off the beaten track. So they go out whenever they can. Last year the restoration of this VW 181 Kubel Sitz Wagen was finished and the muddling through could begin.
Cagiva 250 Ala Verde and Alazzura 350 – Two very different Cagiva's
After a visit to the Hardenberg fair – more than a year ago – the trip went over Wezup, where a few suitcases had to be picked up. There we saw a 250 1983 cc Ala Verde. For the first time in our lives. Because it was not an Aermacchi four-stroke, but a Cagiva two-stroke Ala Verde.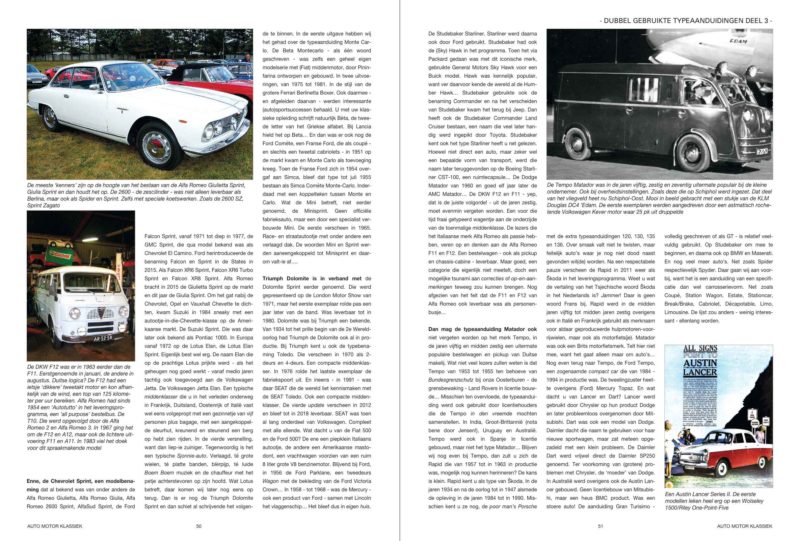 Double-used type designations, part 3
In the July edition you could read the second part about type designations that were attached to their automobiles by various manufacturers. At first it was thought that it would be at most fifteen, sixteen, type designations used twice. While writing the article, the collection grew and grew to such an extent that it could no longer be summarized in one fascinating article. Hence a story-in-parts.
Short messages
Auto Motor Klassiek has plenty to report every month, current news, useful tips, events, you name it. Includes monthly columns the column of Maria Pels, Erik van Putten and Jouke Bloem.
Reader post
Every month, our readers' section is full of reactions from readers, discoveries they made on (distant) journeys, or corrections to previously asked questions.
Vintage cars for sale
Vintage cars for sale, Young timers for sale, Classic engines for sale. You will find every month in Auto Motor Klassiek thousands again classics for sale.
Preface
Suppose you can buy a tennis ball and a racket and they together cost 1,10 euros. The racket is one euro more expensive than the ball, what does the ball cost? Simple question right? It turns out to be less simple than expected. Because the first thing almost everyone says is 10 cents. And that's wrong. The funny thing is that once you figure that out, it's very difficult to come to a new conclusion.
The theory is that your brain has an automatic mode and a conscious mode. The brain prefers the automatic mode, because it costs less energy and is much faster. And you also emit less CO2. Fast and economical and good for the environment, what more could you want?
It is also the part of your brain that makes simple associations based on past events. And the stronger the emotion, the stronger the association.
That's why you automatically think all Alfas rust in folder, if you've ever seen an Alfa with rust. Or do you think all English engines leak oil because you happened to have one that leaks oil. Or do you think Lucas is the 'Prince of darkness' because you once had an electrical failure on your Triumph TR 6. Or you think all politicians lie because one has been caught lying. This is how prejudices arise.
I had that with Japanese cars. In the late 10.000s and early 5s, I found them unimaginative and technically outdated. I was amazed, because they could build very tasty motorcycles that could run at XNUMX rpm without any problems and still stay intact! Or something like the Suzuki RE-XNUMX, surely one of the best-executed Wankel motorcycles…
But the cars? I always thought, except for a few exceptions, cuddling with a straw. Until I rode with someone in a Mitsubishi Galant. I've mentioned it here before, I think, but the best man drove any speed between 0 to about 90 km/h only in second gear. It was then that I was impressed by that poor Mitsubishi engine, which tolerated the abuse and continued to run remarkably smooth and turbine-like, especially for a four-cylinder. When by chance a few months later I had to drive some of those Galants from one place to another, I found out that such a Japanese gearbox also shifted like butter. Many times better than comparable cars at the time. And… you could shift up and down without a clutch without any problems. Of course with a little feeling and intermediate gas, but still… just do that with an Opel or Mercedes from that time! It was time for the conscious mode… One of my 'discoveries' was that the Mitsubishi used balance shafts. Pretty special at the time. Only the Ford V4 had balance shafts, and needed them very badly!
Well, prejudices, they come automatically. But that doesn't mean you can't do anything about it. Although that of course costs extra energy. Therefore, in the context of energy savings, the correct answer is 5 cents.