What you can read in the new AMK is shown below. Every month plenty of pages filled with everything about classic cars and motorcycles, sometimes even a single truck. Auto Motor Klassiek is now in the shops, in the Netherlands and Belgium.
New in the store in the Netherlands and Belgium every month. And a few days earlier with the subscribers. Subscribe is a lot cheaper, you pay 40% less than in the store.
Lancia Flaminia Berlina 2.5V6
In the spring of 2018, Nan Beers from Schagen told his Triumph Dolomite that he had a Lancia Flaminia Berlina in mind. His wish was fulfilled in January 2019. He bought a 2.5 V6 Bicolore. The hand-built Italian beauty was every reason to drive to Noord-Holland again and to make a report about this extremely distinguished Lancia.
BMW's father and son; BMW R90 / 6 and BMW R75 / 5
Ben van Kaam owns a BMW R90 / 6 from 1975. He is crazy about the 900 cc boxer and he doesn't get that from a stranger. His father Jos also likes to sit on his BMW. An R75 / 5 from 1972.
Enchantment BMW 635 CSi extends beyond German Gründlichkeit
Not everyone is easily charmed by German cars. Some find them cold, clinical and a little bombastic. However, the enchantment of the BMW 6 Series is almost impossible to resist, which is reflected in hard increases in value. The power of seduction does not come out of the blue: a Frenchman set out the lines.
Heritage preservation with a mischievous touch at Audi 80 L.
The OEM plus look. No, we didn't know that term either, but the '73 -er Audi 80 L on these pages is the answer. At least, that's what the owners explain to us, Arnold and Indra Soddeman. Call it historic preservation with a mischievous touch, the mild upgrade that the rare classic has undergone. Furthermore, it remains nice and original and just as green as its daily environment.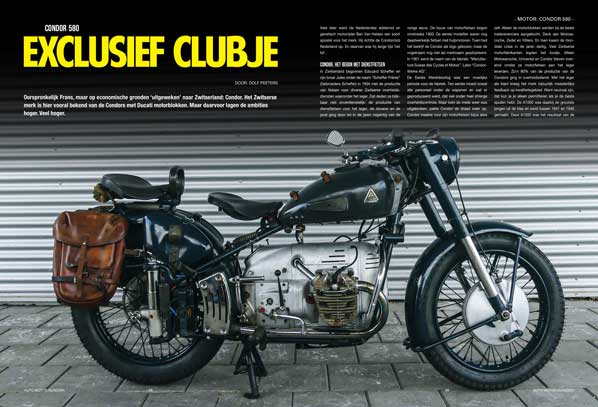 Condor 580
Originally French, but 'emigrated' to Switzerland on economic grounds: Condor. The Swiss brand is best known here for the Condors with Ducati engine blocks. But the ambitions were higher for that. Much higher.
Volvo 740 sedan 1984-1989
When you hear from an inveterate old Volvo driver that he has bought another Volvo a new car with very few kilometers? Then your first thought is not that that is a 1986 man with one and a half tons on the clock. The Volvo still feels and drives like new.
Restoration report: Fiat 126 from 1976
Very good, this term is mentioned no less than 34 times in the Wilbers Taxaties report. Owner Matthias Wubs is pleasantly modest himself about his first (and possibly only) restoration project. The Fiat 126 was delivered new in the Netherlands in 1976. The car has been completely restored over the past seven years and that was necessary. The animated report shows that a small car can be quite a job.
Repair horn
An electric horn is much simpler in operation than many would think. Yet there is a very good chance that sooner or later the mechanism will stop working, especially when the horn is rarely or never used. The proverb 'rust rust' is certainly appropriate for car horns.
Experience the liberation (5)
The series with pictures from the Banana box with pictures purchased in Vledder in Drenthe is attracting great attention. It is about the images from the 2nd World War and the invasion of the Allies that started on the beaches of Normandy in France on 6 June 1944. Part 5.
Young timer rally
On 11 July 2020, seventeen teams gathered at the Aardhuis in leafy Hoog Soeren for the Youngtimer Rally. They were looking forward to it and rightly so, because a beautiful day and a nice ride awaited the enthusiastic participants in the Veluwe.
Short messages
Auto Motor Klassiek has plenty to report every month, current news, useful tips, events, you name it. Including monthly columns the column by Maria Pels, Erik van Putten, Jouke Bloem and Mark van Beeck.
Reader post
Every month, our readers' section is full of reactions from readers, discoveries they made on (distant) journeys, or corrections to previously asked questions.
Vintage cars for sale
Vintage cars for sale, Young timers for sale, Classic engines for sale. You will find every month in Auto Motor Klassiek thousands again classics for sale.
Preface
"I once read that drinking can irreparably damage your liver. I was so shocked by that that I immediately stopped reading, "I once heard someone say. I also had more or less the same. But then with all the insane news of the past year. Apparently I was also very shocked by that. It wasn't a conscious decision, but a week or so ago I realized that I had pretty much cut myself off from all news sources and social media stuff all summer. A wonderful period. I was not angry about anything anymore. Not shocked, indignant or astonished by today's bizarre events or irrational beliefs. I was not plagued by people who wanted to impose their opinion at all costs. It was a bit like the Dunphy family's summer. Even the fruit tasted great.
In this blissful state of nirvana, I decided out of the blue to gift myself a motorcycle. After all, the holiday had already been canceled for this summer. Not that the bike was anything special, but something that reinforced this blissful situation. A Honda XL500S. Japanese glory from the late 500s. Something I've always wanted. Delicious 500 cc single-cylinder with firm blows. No monoshock, but real angled double shock absorbers. Exhaust along the top. Wide handlebar. No electric starter. All exactly as it should be. And still practically available for nothing, unlike the XTXNUMX from about the same period. And the nice thing is that it is a bit of a project. No major restoration, but some 'little things'. But that is usually half the pleasure for me. Tinkering. Or brush. Or improve. Or a combination. So that's how the perfect summer began. A successful combination of 'social distancing' in its most extreme form and a zen-like rest while working on a (Japanese) classic.
It really was a perfect - albeit rather quiet - summer. Almost without news at all. Is that what they call the art of omission?
'Curiosity killed the cat' they say in England. Curiosity was my Alex. The moment Alex returned to the Dunphy house, the harmonious summer ended. And the moment I became curious about the latest news was the end of my nirvana. The first message I read? Mathematics is racist these days. There was the utter amazement again. Hot, I was shocked. Is this serious? That can't be true, can it? I gradually get the feeling that we are on our way back to the dark ages. Can I make this unseen again? You would stop reading almost immediately anyway (except AMK of course). And to top it off, start drinking seriously ...
And then of course we have old Newton who - funny anecdote - got an apple on his head while he was sitting in the garden. Where a normal person would curse, he came to his law of gravity. In his view, the force that dropped the apple straight to Earth would be the same force that keeps planets in orbit.
But where Faraday and Newton, including accompanying anecdotes, are almost as well known as the Kardashians, no one knows who Murphy is and the hilarious anecdote that underlies this natural law. It shows how powerful and universal Murphy's law is: even in the attribution and recording of the anecdote that led to Murphy's law, everything went wrong. Just creepy….
When tinkering with classic cars and motorcycles, you often have to deal with Murphy, even if you don't know. Ever removed a lock from the camshaft chain? You know it's going to jump into the greasy twilight of the crankcase with true death contempt. So you stuff it as good and as bad as possible with a cloth. If the lock falls, the cloth will stop it. And then Murphy comes into play. And the same thing happens that happened when Pavarotti was on the Dam. Just that one part where Pavarotti is not standing, there is a doif shit. And just that one hole that is not covered, the lock falls through.
Murphy can also work the other way around. Hardened by the merciless Murphy, you always assume the worst. I drove my for centuries Triumph Spitfire, knowing the engine was due for overhaul. It ran well, but made an expensive metallic noise. Until I accidentally saw that at certain speeds two metal plates crawled up against the throttle cable, to oscillate loudly again downwards. Pictures gone, and the Spitfire was like new. It's always the worst thing you can think of unless you assume that. Murphy can really make you happy. It's all that jam alone, isn't it? What a mess.