Classic trucks are also pure nostalgia. But they have their limitations. Things are difficult to store and not very deployable. And there are not many left. Like the Greek donkeys, they had to work too long and too hard for too little food.
Classic trucks
The market for it is quite small. There are quite a few transport companies whose owner has such a relic from his company past as an ornament. Cars like that only hit the road for events or advertising purposes. Usually the former workers are from European - with the exception of - English soil. In England they had all kinds of different rules and brands that focused on that.
Then there are some restored Kenworths and Macks. They have been brought here by fans of appearance. The people who are not impressed by that think the Americans are rude and basic.
It's a small market
According to our information, the restoration of trucks is only done by a few companies. Most owners are extremely self-reliant and often take their time for rebirth. In that process it is often the construction that takes the most of the time. We often hear that many technical components are just so good that they only need cosmetic attention.
A brand that we mainly knew from fire trucks here is Magirus
And they were wanted because their air cooling allowed them to run at 'high' revs for a long time, while the engine powered the extinguishing water pump. The Magirus Deutz trucks were equipped with different variants of air-cooled diesel engines, from 4R to V12. And you heard that!
During my service, when I had to participate in some very big exercise, including a factory set on fire, there were a bunch of Magiruses standing in 'booster' to provide the extinguishing water. The roar of the engines and the howl of the pumps still gives me goosebumps. The targeted actions of the ME present against unclear annoying people also ensured this. Sometimes it looked like ballet. All respect to the ME!
The German army was also a major buyer of the brand
The car in the photos must be an ex-soldier. At one point, many of those very low mileage copies came from mobilization complexes. They were eagerly bought by adventurers who turned them into very sturdy campers. It has been proven that you can at least get to Nepal with such a thing. In addition, it helped that there was over 1100 liters of diesel on board. Refueling always attracted a lot of attention. Some gas station attendants thought something was wrong or that they were being fooled.
A retired soldier
And so we come to the Magirus Deutz of Sander Buitink. Sander usually sells more common cars. But has a soft spot for strange ducks… The Magirus Mercur is a German 5 ton truck built between 1951 and 1972 by Magirus Deutz in Germany. A Mercur 125 A. That 'A' will have stood for 'Armee'. The neat four-wheeler has a roof hatch on which the buyer could optionally mount a .50 machine gun. The Magirus is an 'Eck hauber'. This in contrast to its predecessors. The 'Rundhaubers' with their grandiose fifties lines. And the kilo price is not too bad.
Read also:
- Magirus Deutz expedition vehicle (1984). Private bungalow
- Beautiful HOGRA
- Scania 80 truck (1970). Priority to nostalgia.
- Campers can also be classics
- Mack JR. From project to perfect for Jan Land
A clean sleeper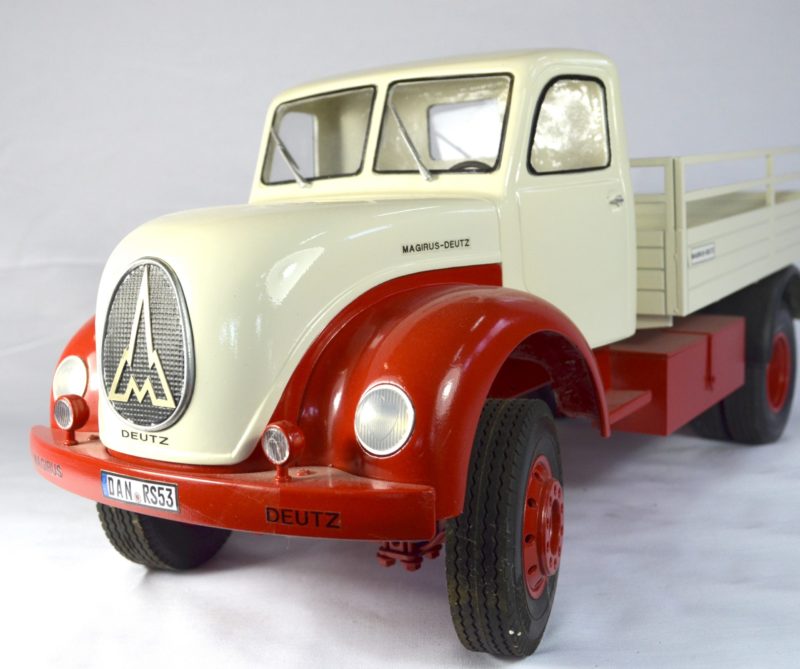 The 'Rundhauber'. Not from Magirus. From Tamiya
---
Please help us keep this website and the articles on offer free. Subscribe yourself Auto Motor Klassiek and also receive the magazine 12 times a year in the mail. Or donate a desired amount on our payment page via this link. We are certainly grateful for it.
---
Enjoy daily free stories about vintage cars in your email and sign up for free.